The headline inflation for the month of July 2012, measured by the Wholesale Price Index (WPI) slipped to 6.89% as against 7.25% in June 2012. Surprisingly, this time there were no revisions to inflation numbers of the preceding months as was the case during the release of WPI inflation numbers last month. Moreover, the July 2012 inflation number is the least since the change in the base year in August 2010.

The graph below highlights the trend in the WPI inflation since July 2011. The inflation bug has been maintaining its stickiness despite efforts from the Reserve Bank of India (RBI) through its anti-inflationary stance. It is noteworthy that now, inflation is within the comfort range (6% to 7%) of the RBI. Thus, RBI may rethink of its monetary stance taking into consideration the inflation as well as IIP numbers.


Inflation within the comfort zone of RBI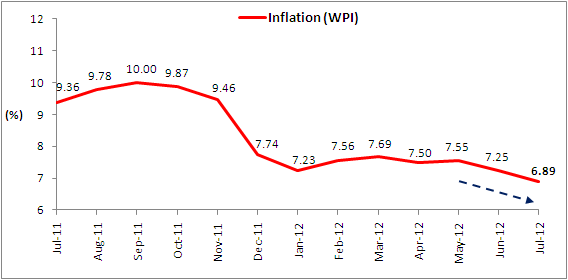 (Source: Office of the Economic Advisor, PersonalFN Research)
The cool down in the headline inflation can be attributed to the following components, which constitute the WPI.

Food inflation: With a weightage of 14.34%, the food inflation for the month of July 2012 stood at 10.06% as against 10.81% in the previous month. Going forward if the monsoon season does not pick up towards the end of the season; it may further spur the food inflation.

Fuel & Power inflation: The fuel & power inflation for the month of July 2012 almost halved to 5.98% as against 10.27% in the previous month. However, if the petrol & diesel prices are raised in order to reduce the under-recoveries of the Oil Marketing Companies (OMCs) we may further see a steep rise in the fuel inflation.

Moreover, there is a threat to the country's import bill as the Brent crude oil prices have again spiralled above $100 per barrel mark. But at the same time if the currency (Indian rupee) strengthens against the U.S. dollar, it might negate the adverse impact of rising Brent crude oil prices.

So, would RBI go in for a rate cut in the upcoming monetary policy review?

The Reserve Bank of India (RBI) may not go in for a steep rate cut despite the easing of the headline inflation to 6.89% for the month of July 2012 as the threat of food inflation and fuel inflation rising in the near future remains high. However, to soothe the industry pressing for a rate cut to revive the faltering economic growth, the RBI may reduce the policy rates by a mere 25 basis points at its upcoming second quarter mid-review of monetary policy scheduled on September 17, 2012 (which may turn out to be a non-event).


Policy rate tracker
|   | Increase / (Decrease) in FY12-13 | At present |
| --- | --- | --- |
| Repo Rate | (50 bps) | 8.00% |
| Reverse Repo Rate | (50 bps) | 7.00% |
| Cash Reserve Ratio | Unchanged | 4.75% |
| Statutory Liquidity Ratio | (100) | 23.00% |
| Bank Rate | (50 bps) | 9.00% |
(Source: RBI website, PersonalFN Research)
Our View on inflation:

We think that going forward the chances of the WPI inflation heading northwards cannot be written off. Due to the poor rains this monsoon season, food inflation may spike up going forward. Also, fuel & power inflation too are subject upward movement as losses of OMCs have been rising. Moreover, going forward due to the high base effect, inflation may not sustain its low levels.

What should equity investors do?

Equity investors should adopt a calm and composed approach towards their investments. Redeeming their investments in case of panic selling in the equity markets will do more harm than good and instead investors should invest when the markets correct or valuations look attractive.

No doubt that the developed nations (Europe and United States) are still not out of the woods and in case of any negative news disseminating from them will have an impact on our markets as well. The slow pace of growth in the U.S. (GDP growth of 1.5% for Q2 2012) and the third largest economy of Europe, the United Kingdom shrinking by -0.7% in the second quarter of 2012 are clear signs of poor pace of growth in the developed nations.

However, as promised by the Finance Minister - Mr P. Chidambaram to take action on the supply constraints front, the food inflation may well be controlled. Other important impediments on the domestic front are poor business confidence, high interest rates, unclear tax laws which need to be addressed to. Citing these impediments and with an aim to bring back growth on track, the FM said that the Government was ready with an action plan. He said, "Price stability is an important objective. There has been pressure on prices, and inflation, especially food inflation, is high. The causes are well known...some are beyond our control, such as prices of crude oil and imported commodities, but some others can be addressed by determined action. We will take steps to remove the constraints on the supply side." Assuaging the fears about the proposed strong tax laws by his predecessor Mr Chidambaram said, "Clarity in tax laws, a stable tax regime, a non-adversarial tax administration, a fair mechanism for dispute resolution, and an independent judiciary will provide great assurance to investors. We will take corrective measures wherever necessary."

Moreover, when investing in mutual funds it is vital to select only those equity mutual funds which follow strong investment processes and systems, and invest with a long-term horizon of at least 5 years.

What should debt investors do?

Well, we think that the current situation is attractive to take exposure to debt mutual fund instruments as interest rates are likely to go down gradually over the months.

Hence at present while taking exposure to debt mutual funds and fixed income instruments, one should clearly know their investment time horizon. Investors with an extreme short-term time horizon (of less than 3 months) would be better-off investing in liquid funds for the next 1 month or liquid plus funds for next 3 to 6 months horizon. However, investors with a short to medium term investment horizon (of 1 to 2 years) may allocate a part of their investments to short-term income funds which should be held strictly with at least 1 year time horizon.

The present scenario also seems comfortable to look at longer horizon debt mutual funds. Thus, if you have a longer time horizon, then you can now hold some exposure to pure income funds. Since longer tenor papers will become attractive, longer duration funds (preferably through dynamic bond / flexi-debt funds) can be considered, if one has an investment horizon of say 2 to 3 years. However, one may witness some volatility in the near term as there is always an interest rate risk associated with longer maturity instruments.

Fixed Maturity Plans (FMPs) of upto 1 year may for some more time yield appealing returns and can also be considered as an option to bank FDs only if you are willing to hold it till maturity. You can consider investing your money in Fixed Deposits (FDs) as well, before the interest rates offered on them are reduced. At present 1 year FDs are offering interest in the range of 7.25% - 9.25% p.a.

What should investors in gold do?

Even at the present price range, gold still can be considered as your hedge against the spiralling inflation. Though there will be some sideways movements due to any temporary relief in the paining Euro nations, we believe that there could be volatility in the equity markets if the paining Euro nations like Greece, Italy and Spain do not come with some concrete solutions to get their finances in place. Also, with the Government battling to meet the fiscal deficit target amid a gloomy global economic scenario and a slowdown in economic growth, we think that investors would prefer to take refuge under the precious yellow metal despite elevated prices.

Hence, nothing has changed for gold and we believe it will continue to maintain its upward trend in the long-term along with some sideways movement too.

At Personal FN, we recommend that you should have a minimum of 5%-10% allocation to gold. Invest in gold with a long term perspective with a time horizon of 10 to 20 years.
[Read More]