The Index of Industrial Production (IIP) for the month of February 2012 posted a growth of 4.1% as against 1.1% recorded in the previous month. However, the January 2012 IIP growth has undergone a drastic change (from 6.8% down to just 1.1%) mainly due to the incorrect production data of sugar which was originally reported as 134.08 lakh tonne and subsequently rectified to 58.09 lakh tonne. Also, the November 2011 IIP growth was marginally revised upwards to 6.0% instead of 5.9% estimated earlier.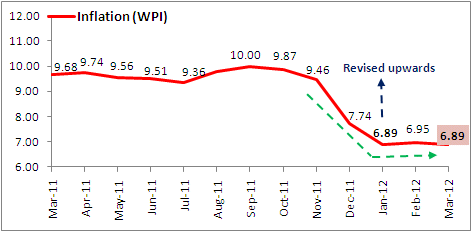 (Source: CSO, PersonalFN Research)
The uptick in the IIP was led by the following:
Manufacturing index, which constitutes about 76% of the industrial production, displayed a healthy growth of 3.8% in the month of February 2012 (as against 1.1% (revised downwards from 6.8%) in the previous month).


Consumer goods index however, contracted marginally to -0.25% in the month of February 2012 as against 2.9% in the previous month. The positive growth of 5.1% generated by the Consumer non-durables index was completely washed away by the Consumer durables index by posting a negative growth of -6.7%


At last the Capital goods index jumped back to positive terrain by registering a positive growth of 10.6% in the month of February 2012 as against a contraction of -1.7% in the previous month. The growth in the Capital goods index was led by 'machine tools' which grew 114.2% in the month of February 2012. We expect the capital goods index to further improve as the RBI is expected to ease policy rate in its upcoming annual monetary policy review on April 17, 2012 which will ease the interest rates in the country and ultimately reduce borrowing costs for companies.


Our View:
Though the IIP numbers for the month of February 2012 display an uptick the wide revisions occurring in the IIP numbers has made this macroeconomic data unreliable. For instance the growth figures for the month of January 2012 were revised downwards to just 1.1% from 6.8% estimated earlier (reason for this discrepancy was the incorrect production data of sugar). Similar wide revisions which were registered earlier were for the month of June 2011 wherein the IIP growth was revised upwards to 9.4% from 5.9% and again in July 2011 the IIP growth was revised to 3.8% from 8.8%.

When published for the first time the Index of Industrial Production (IIP) growth number for a particular month is a quick estimate and then it is subjected to two more revisions in the upcoming months. The Government should increase its efficiency on this front and try narrowing the gap between quick estimates and subsequent estimates.
What should equity investors do?
The Indian equity markets are resilient in nature and have potential for a robust future growth. Investors in equity should adopt calm and compose approach and stay invested from a long term point of view.

Though of late the fears about the debt contagion in the Euro zone subsided due to the infusion through the Long Term Refinancing Operations (LTRO), renewed fears of high borrowing costs in Spain and upcoming elections in Greece have left the investors nervous. Any negative news might create a rippling and crippling effect on the Indian equity markets as an immediate effect. However, robust growth prospects will eventually attract foreign investments in the country as compared to the developed nations, as India offers robust growth. But we are of the view that India's tax policies need to be more predictable and should not throw wrong signals (as they have done at present with the Government trying to override the judgment of the Supreme Court, in Vodafone's tax suit)

While investing in mutual funds it is vital to select only those equity mutual funds which follow strong investment processes and systems, and invest with a long-term horizon of at least 5 years.


What should debt investors do?
Well, we think that the current situation is attractive to take exposure to debt mutual fund instruments as interest rates are likely to consolidate at these higher levels before they start going down.

But it is not going to be an easy task for the RBI to reduce policy rates as it would have a challenge of keeping WPI inflation within its comfort zone (at present the WPI inflation stands at 6.95% for the month of February 2012). This is because Brent crude oil prices are hovering around the $120 per barrel, and if oil marketing companies do increase fuel prices (after obtaining consent from the Government) to correct their under-recoveries we may once again see pressures building into WPI inflation due to increase in fuel inflation

Hence at present while taking exposure to debt mutual funds and fixed income instruments, one should clearly know their investment time horizon. At present since short-term rates are high due to tight liquidity in the system, you can benefit from being invested in mutual funds having exposure to shorter maturity instruments. Hence investors with a short-term time horizon (of less than 3 months) would be better-off investing in liquid funds for the next 1 month or liquid plus funds for next 3 to 6 months horizon. However, investors with a medium term investment horizon (of over 6 months), may allocate a part of their investments to floating rate funds. Short-term income funds should be held strictly with a 1 year time horizon. If one has a longer investment horizon (of say 2 to 3 years) dynamic bond / flexi-debt funds can also be considered. However, one may witness some volatility in the near term as there is always an interest rate risk associated with the longer maturity instruments, and yield of long-term papers are likely to bump-up before they start falling.

Fixed Maturity Plans (FMPs) of upto 1 year would continue to yield appealing returns and can also be considered as an option to bank FDs only if you are willing to hold it till maturity. You can consider investing your money in Fixed Deposits (FDs) as well; at present 1 year FDs are offering interest in the range of 7.25% - 9.25% p.a.
[Read More]