The Index of Industrial Production (IIP) for the month of March 2012 plunged sharply to -3.5% (from 4.1% in the previous month), thereby reflecting a sharp slowdown in our economy. On an annual basis too – for the complete fiscal year 2011-12, industrial production worked out to be mere 2.8%, thus being far muted than 8.2% posted in the previous fiscal year.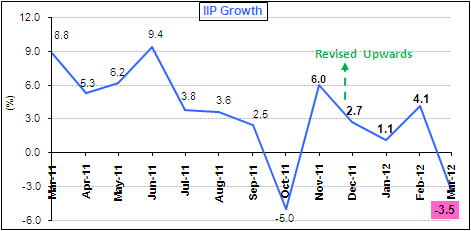 (Source: CSO, PersonalFN Research)
The fall in the IIP was led by the following:
Manufacturing index, which constitutes about 76% of the industrial production, plummeted to -4.6% in the month of March 2012 as against 3.8% in the previous month. Also, for the fiscal year 2011-12 the manufacturing index grew at barely 2.9%, as against 8.9% in the previous fiscal.


Capital goods index too took a nose dive as it reported a contraction of -21.3% in the month of March 2012, as against 10.2% in the previous month. Even on annual basis the capital goods index registered a negative growth of -4.1%, as against 14.8% in the previous year. Low business confidence due to lack of policy reforms and dark political clouds have been weighing heavily on the investor sentiment in the country.


Consumer goods index however, just managed to be in the positive terrain by registering a growth of 0.7%, as against a contraction of -0.3% in the previous month. Both the consumer durables index and consumer non-durable index grew 0.2% and 1.0% respectively. On an annual basis too, consumer goods index posted a growth of 4.4% in FY 2011-12 as against 8.5% in the previous fiscal.


Our View:
We believe that the IIP numbers clearly bring out the slowdown in the economy. A mix of domestic and global factors has been denting the investment environment in the country. Clearly the policy inaction on the part of the Government has been responsible for the slow pace of the country's growth.
Moreover, it would be interesting to see if there is any further revision in the IIP numbers due any kind of error on the part of the Government.
What should equity investors do?
We recognise the industrial output numbers for the month of March 2012 as well as the complete fiscal year 2011-12 are rather worrisome. A high interest rate regime (due sticky WPI inflation) has certainly hampered the industrial activity. But going forward in the immediate ensuing months, we believe industrial activity would depict an uptick, as the manufacturing PMI data is still over the 50 mark, which differentiates contraction from expansion. However, for it to hold above the 50 mark, economics has to outweigh politics through prudent policy measures from the Government. While efforts to push reforms have been taken by the Government in power, the lack of consensus on reform measures in multi-brand retail, insurance, pension and banking, has thus far held back economic growth from accelerating and has resulted in wiggling implications on FII flows as well.
Moreover, the Indian equity markets are not completely de-coupled from the global markets and as such any negative news emanating from the developed countries may have a rippling and a crippling effect on the domestic markets. Moreover, with the Spain reporting a contraction in its economic growth (-0.3% for Q1 2012), signalling the confirmation of recession in one of the two large economies at the centre of the Euro zone's debt crisis and shrinkage in U.K.'s Q1 2012 GDP growth rate to -0.2%, indicates that the Euro zone is still not out of the woods. Moreover, with a new leader at its helm in the fifth largest economy in the world – France, the elite businessmen are having a second thought on carrying on their businesses in the country. This is because the France's new President-elect Francois Hollande is planning to slap a 75% tax on income of more than Euro 1 million ($1.29 million), reinforcing the sentiment that in France to be rich is not glorious.
Hence taking a holistic view, the Indian equity markets is expected to undergo a phase of consolidation with a softer descending move, until the central bank does not resort to reducing policy rates further in order to impetus to economic growth. Moreover, the news disseminating from the developed economies would also pave the path for the Indian equity markets. Thus given an uncertain environment, we believe opting for the SIP (Systematic Investment Plan mode of investing would be the right approach as this will help you to manage the volatility of the equity markets well (through rupee-cost averaging) and also provide your investments with the power of compounding.
Remember, while investing select only those equity funds which follow strong investment processes and systems, and invest with a long-term horizon of at least 5 years.
What should debt investors do?
Well, we think that the current situation is attractive to take exposure to debt mutual fund instruments as interest rates are likely to go down gradually over the months.
But it is not going to be an easy task for the RBI to reduce policy rates as it would have a challenge of keeping WPI inflation within its comfort zone (at present the WPI inflation stands at 6.89% for the month of March 2012). Moreover, with a possibility of fuel price hike looming large due to large scale under recoveries of Oil Marketing Companies and food inflation seen rising higher on account of fall in production of oilseeds in India, the headline inflation may remain sticky in the near future giving less room to the RBI to ease interest rates.
Hence at present while taking exposure to debt mutual funds and fixed income instruments, one should clearly know their investment time horizon. Since short-term rates are expected to fall due to liquidity concerns being addressed to, you can benefit from being invested in mutual funds having exposure to shorter maturity instruments. Hence investors with an extreme short-term time horizon (of less than 3 months) would be better-off investing in liquid funds for the next 1 month or liquid plus funds for next 3 to 6 months horizon. However, investors with a short to medium term investment horizon (of 1 to 2 years) may allocate a part of their investments to short-term income funds which should be held strictly with at least 1 year time horizon.
If you have a longer time horizon then you can now gradually take exposure to pure income funds. Since longer tenor papers will become attractive, longer duration funds (preferably through dynamic bond / flexi-debt funds) can be considered, if one has an investment horizon of say 2 to 3 years. However, one may witness some volatility in the near term as there is always an interest rate risk associated with longer maturity instruments.
Fixed Maturity Plans (FMPs) of upto 1 year would continue to yield appealing returns and can also be considered as an option to bank FDs only if you are willing to hold it till maturity. You can consider investing your money in Fixed Deposits (FDs) as well, before the interest rates offered on them are reduced. At present 1 year FDs are offering interest in the range of 7.25% - 9.25% p.a.
[Read More]