After two consecutive months of negative terrain, the Index of Industrial Production (IIP) for the month of May 2012 inched upwards to 2.4% as against -0.9% (revised downwards from 0.1%) in the previous month. Moreover, since the beginning of this year the average growth in the IIP has been below 1% (0.8%).

Since December 2011, the IIP growth has been struggling, thereby signalling a slowdown in the Indian economy. This manifestation of slowdown by the Indian economy may cajole the RBI in reducing the key policy rates at its upcoming first quarter review of monetary policy 2012-13 scheduled on July 31, 2012.


IIP growth, still time to call it a recovery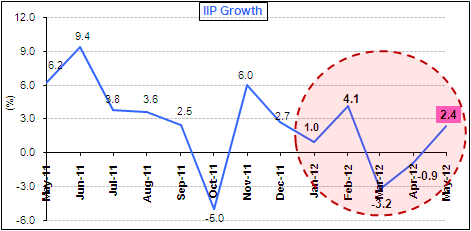 (Source: CSO,PersonalFN Research)
The following factors had their share of impact on the IIP growth:


Manufacturing index, which constitutes about 76% of the industrial production, displayed a positive growth of 2.5% as against almost 0% growth in the previous month. Moreover, on a Y-o-Y basis the manufacturing index underperformed by 3.8% (Manufacturing index for the month of May 2012 came in at 6.3%. Also, the positive growth in the index can be attributed to the lower base effect (of May 2011).


Consumer goods index once again, managed to put up a good show by registering a growth of 4.3% for the month of May 2012 as against 3.7% (revised downwards from 5.2%) in the previous month. Both the consumer durables and consumer non-durables registered a positive growth of 9.3% and 0.1% respectively.


Last but not the least; the capital goods index continued its lacklustre performance by registering once again a negative growth of -7.7% in the month of May 2012 as against -19.6% (revised downwards from -16.3%) in the previous month. Low business confidence due to lack of policy reforms and politics weighing over economics have been weighing heavily on the investor sentiment in the country.


Our View:

We believe that though the IIP numbers have managed to provide a positive growth better than the previous month it would be not be prudent to term it as a turnaround in the IIP growth. Moreover, the future course of the growth will depend on the stance taken by the Government to infuse confidence amongst the investor community. Bureaucracy and red tapism in clearing large projects, high fiscal deficit and high inflation are some of the areas which require immediate Government attention. Bold steps like reducing subsidies in some sectors and decontrol of diesel may provide a turning point to the Indian growth trajectory.

What should equity investors do?

Along with the banking crisis in Spain and Italy and rising borrowing cost thrusting pressure on the Government finances; the fears and the situation of debt-overhang in the Euro zone are very much alive. It is noteworthy that, the entire Euro zone at present is reporting dismal economic growth despite interest rates being placed low by the European Central Bank (ECB). Recently in order to tackle the Euro crisis, the ECB reduced policy rates to 0.75% (from 1.0%) - in line with the expectation, but this move now is likely to weaken the Euro against all major currencies and cannot be seen as a permanent remedy for the Euro zone crisis.

The manufacturing sector in the U.S. reported shrinkage for the month gone by (i.e. June 2012) for the first time in the last three years, as new orders have tumbled due to gloom clouds surrounding the global economy. The Index of National Factory Activity for June 2012 (data released in July 2012) has fallen to 49.7 from 53.5 in the month before, thereby missing expectations of 52.0. It is the first time since July 2009 that the index has fallen below the 50.0 mark (which demarcates expansion and contraction), and thus it seems that economic recovery is impeded and fragile. As far as India is concerned, along with the global economic headwinds looming around, the domestic economic and political environment is playing a spoil sport. While, all eyes are now are on the RBI to cut rates (in the environment where global central banks have cut rates) and provide impetus to economic growth, the stiff WPI inflation may hinder aggressive rate cuts from the India's central bank.

Hence taking a holistic view, although the Indian equity markets would remain susceptible to news disseminating from the developed economies, they are likely to perform better with likely chance of better foreign flows from the developed due near to zero interest rate regime. Moreover now with Dr. Manmohan Singh now at the helm of the finance ministry, renewed confidence could be exuded, as the Government may work towards achieving political consensus to ensure that the reform measure aren't stuck. But given that markets may continue to remain volatile in the backdrop of the global economic headwinds, Q1FY13 earnings and other economic factors; we recommend one to opt for the SIP (Systematic Investment Plan) mode of investing, as it will enable you to mitigate the volatility through rupee-cost averaging and power your portfolio with the benefit of compounding. However, while selecting mutual funds for your portfolio prefer the diversified equity funds (preferably which adopt value style of investing or the opportunities style of investing) which follow strong investment processes and systems, and invest with a long-term horizon of at least 5 years. But when investing in mutual funds it is vital to select only those equity mutual funds which follow strong investment processes and systems, and invest with a long-term horizon of at least 5 years.

What should debt investors do?

Well, we think that the current situation is attractive to take exposure to debt mutual fund instruments as interest rates are likely to go down gradually over the months.

Hence at present while taking exposure to debt mutual funds and fixed income instruments, one should clearly know their investment time horizon. Investors with an extreme short-term time horizon (of less than 3 months) would be better-off investing in liquid funds for the next 1 month or liquid plus funds for next 3 to 6 months horizon. However, investors with a short to medium term investment horizon (of 1 to 2 years) may allocate a part of their investments to short-term income funds which should be held strictly with at least 1 year time horizon.

The present scenario also seems comfortable to look at longer horizon debt mutual funds. Thus, if you have a longer time horizon, then you can now hold some exposure to pure income funds. Since longer tenor papers will become attractive, longer duration funds (preferably through dynamic bond / flexi-debt funds) can be considered, if one has an investment horizon of say 2 to 3 years. However, one may witness some volatility in the near term as there is always an interest rate risk associated with longer maturity instruments.

Fixed Maturity Plans (FMPs) of upto 1 year may for some more time yield appealing returns and can also be considered as an option to bank FDs only if you are willing to hold it till maturity. You can consider investing your money in Fixed Deposits (FDs) as well, before the interest rates offered on them are reduced. At present 1 year FDs are offering interest in the range of 7.25% - 9.25% p.a.
[Read More]